Top Management
Terry Bushman -- President
Mr. Bushman is responsible for the business activities of IceSynergy, including Marketing, Sales and Administration. He is intimately familiar with MaximICE slurry ice technology and has played a key role in its sales and marketing effort since the beginning.  Prior to joining IceSynergy, he worked for over 20 years in sales as a manufacturer for the food and beverage processing industry with specific responsibilities in meat and dairy processing, brewing, pure water, heat transfer, industrial refrigeration and thermal energy storage.   

As Director of Paul Mueller Company's International Division and as Business Unit Manager of Mueller's Heat Transfer Division, Terry was responsible for the sales of the slurry ice technology for Mueller. He is perfectly at home in the international world of business, especially in Asia.  

Having lived and worked in Japan for 5 years, Terry is fluent in Japanese and received his Masters of Business Administration in International Management from the Garvin School of International Management (Thunderbird) in 1979. Terry has worked extensively abroad, traveling to over 40 countries in the past 25 years.
Terry Bushman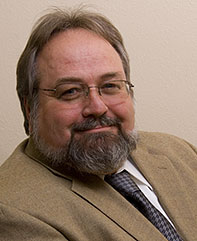 Dale Dudley
Dale Dudley – Technical Director
Mr. Dudley is responsible for all the technical services of the IceSynergy  – Engineering, Product Development, Design, Field Service and Production.  Having worked in the field of refrigeration for the past 30 years, he draws upon extensive experience in commercial and industrial refrigeration. Dale has been responsible for all of the Field Engineering and Service for the installations of the MaximICE Orbital Rod Evaporators around the world over the past 15 years and was a key team member in the initial development and commercialization of the ORE technology in the early 1990s.  His contributions include the adaptation of the ORE for salt water applications. 
For 10 years Dale ran his own successful heating and air conditioning business in Springfield, Missouri before joining Paul Mueller Company's Thermal Storage Division. Dale brings a wealth of field service and field application expertise to IceSynergy in addition to his other contributions.